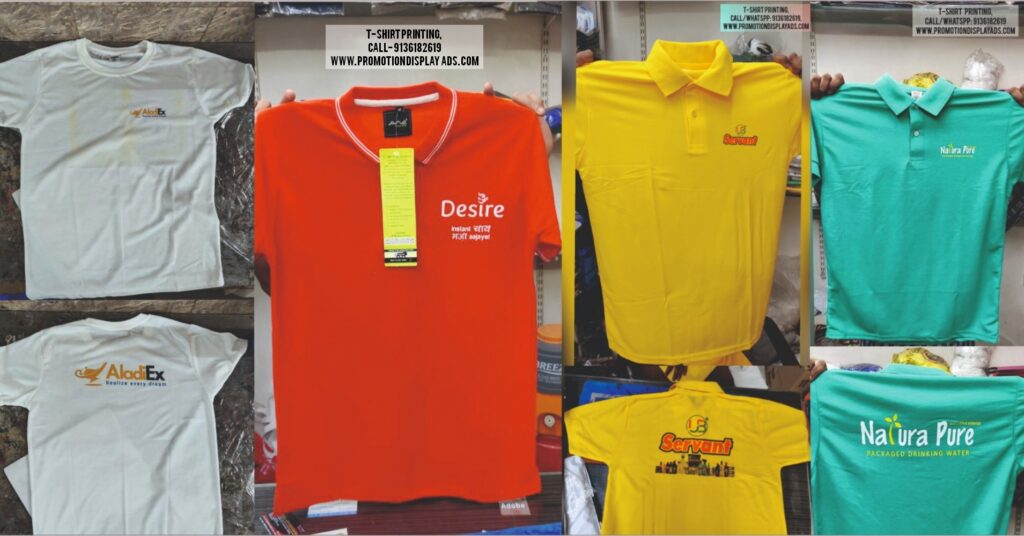 We are Promotional T-shirt Printing manufacturers, Promotional Polo Collar T-shirt Printing, Roundneck T-shirt Printing manufacturers & suppliers in Delhi, Ghaziabad, Noida, Gurgaon, Greater Noida, Noida, Faridabad, Delhi NCR, Anand Vihar, Kaushambi, Vaishali, Vasundhara, Indirapuram, Mohan Nagar, Raj Nagar Extention, RDC Raj Nagar, Raj Nagar, Sahibabad, Sahibabad Industrial Area.
We have Customized T-shirt Printing available both Polo Collar T-shirt Printing and Roundneck T-shirt Printing with Corporate Logo Printing, Branding for Promotional activities, Like, Sampling Disrtibution, Disrtibutor Scheme, Retailer Scheme, Events, Exhibitions, Promotion Campaign, Marketing, Sales Staff, Executives.
We have available Both T-shirt Stock: Branded T-shirt Printing & Non-Branded T-shirt Printing
Non-Branded T-shirt Printing:
Roundneck T-shirt Printing Range start@ Rs.85/- per pcs to Rs.140/- per pcs for Bulk Order Supplies
Polo Collar T-shirt Printing Range start@ Rs.130/- per pcs to Rs.220/- per pcs for Bulk Order Supplies
Branded T-shirt Printing:
Roundneck T-shirt Printing Range start@ Rs.150/- per pcs to Rs.180/- per pcs for Bulk Order Supplies
Polo Collar T-shirt Printing Range start@ Rs.320/- per pcs to Rs.350/- per pcs for Bulk Order Supplies
T-shirt Printing price vary as per Design and As per Quantity Requirement.
We have Quality T-shirt Farbic Variety: Premium PolyCotton Fabric, PolyCotton Mattie Fabric, PolyCotton Dryfit Fabric, PolyCotton Honeycomb, PolyCotton Nirmal Net Fabric, Polyster Serina Fabric, PolyCotton Rice Net Fabric.
T-shirt Printing Fabric available in 140 Gsm, 180 Gsm, 200 Gsm, 220 Gsm
T-shirt Printing services & supplies in All India, New Delhi, Gujarat, Rajkot, Ahemdabad, Surat, Ghandhinagar, Vadodra, Tamilnadu, Chennai, Coimbatore, Madurai, Salem, Tiruchirappalli, Erode, Vellori, Tiruvannam, Puducherry, Karnataka, Bangalore, Bengaluru, Mangalore, Mysore, Hubli, Udupi, Shimoga, Davanagere, Bijapur, Belagaum, Andhra Pradesh, Vishakapatnam, Amaravati, Vijayawada, Guntur, Nellore, Telangana, Hyderabad, Secunderabad, Warangal, Karimnagar, Nizamabad, Kerala, Kochi, Cochin, Ernakulam, Kannur, Thiruvananthapuram, West Bengal, kolkata, Asansol, Siliguri, Howrah, Hooghly, Darjeeling, Baharampur, North east, Assam, Guwahati, Imphal, Manipur, Dibrugarh, Itanagar, Dimapur, Silchar, Tinsukia, Lakhimpur, Agartala, Shillong, Gangtok, Kohima, Arunachal Pradesh, Uttar Pradesh, Kanpur, Lucknow, Agra, Aligarh, Allahabad, Prayagraj, Aligarh, Etah, Mainpuri, Bulandshahr, Khurja, Meerut, Sharanpur, Uttarakhand, Dehradun, Haridwar, Roorkee, Nainital, Kashipur, Haldwani,Rudrapur, Rishikesh, Srinagar, Almora, Pithoragarh, Ramnagar, Maharashtra, Mumbai, Nagpur, Pune, Nashik, Aurangabad, Solapur, Navi Mumbai, Amravati, Kohlapur, Thane, Akola, Kalyan, Ahmednagar, Jalgaon, Bhiwandi, Nanded, Sangli, Latur, Dombivli, Dombivali, Parbhani, Jalna, Ratnagiri, Vasai, Malegaon, Dhule, Madhya Pradesh, Bhopal, Indore, Jabalpur, Gwalior, Ujjain, Sagar, Ratlam, Satna, Chhindwara, Rewa, Katni, Bhind, Guna, Mandsaur, Rajasthan, Jaipur, Jodhpur, Udaipur, Bikaner, Ajmer, Jaisalmer, Alwar, Pushkar, Kota, Chittorgarh, Sikar, Amer, Bhilwara, Bharatpur, Sri Ganganagar, Neemrana, Nagaur, Bhiwadi, Haryana, Gurugram, Gurgaon, Hisar, Rohtak, Panipat, Karnal, Kundli, Ambala, Sonipat, Panchkula, Sirsa, Kaithal, Jind, Yamuna Nagar, Kurukshetra, Bhadurgarh, Palwal, Fatehabad, Manesar, Jhajjar, Sohna, Rewari, Chandigarh, Punjab, Zirakpur, Pathankot, Amritsar, Ludhiana, Jalandhar, Patiala, Bathinda, Hoshiarpur, Firozpur, Khanna, Moga, Kapurthala, Barnala, Abohar, Mansa, Rajpura, Sangrur, Gurdaspur, Mandi Gobindgarh,Sirhind, Nabha, Faridkot, Sunam, Nangal, Himachal Pradesh, Shimla, Dharamshala, Baddi, Manali, Solan, Bilaspur, Una, Kullu, Kangra, Hamirpur, Kasauli, Dalhousie, Sundar Nagar, Bihar, Patna, Muzaffarpur, Samastipur, Gaya, Darbhanga, Nalanda, Buxar, Sasaram, Begusarai, Bhagalpur, Saharsa, Madhubani, Siwan, Ranchi, Raxaul, Nawada, Bokaro, Chattisgarh, Raipur, Bilaspur, Bhilai, Raigarh, Naya Raipur, Orissa, Odisha, Bhubaneswar, Cuttack, Sambalpur, Brahmapur, Balasore, Rourkela, Puri, Jammu Kashmir, J&K, Srinagar, Leh, Jammu, Kashmir, Katra, Udhampur, Anantnag, etc. for Exhibitions and Events and Delivery available via Transporter & Courier Services also.